Ford Repair Center in Owings Mills Serving Baltimore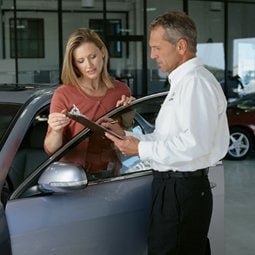 While Ford vehicles are known for their strength and their resilience to the elements, part of the vehicle ownership experience entails knowing that you will have to eventually service your vehicle. Whether it is for something small, like an oil change, or something more extensive, our team can help you efficiently, and precisely, assist you with your vehicle.
Why do you need to service your vehicle regularly, though? Further, why would you visit us here at Len Stoler Ford for your servicing needs?
The Importance of Routine Maintenance
Routine maintenance is vital to ensuring the longevity of your vehicle, and its overall efficiency on the road. When it comes to changing your oil, rotating your tires, repairing your brakes, or anything further, it is imperative that you visit us regularly. This allows us to properly maintain your vehicle, and ensure its overall health every time you come in. Additionally, if there is ever a larger problem under the hood, our team of trained service technicians can catch it, and fix it, before it escalates into a more time consuming, more expensive issue.
Further, the entire team at Len Stoler Ford is dedicated to helping you with your vehicle, whether that is just ensuring your safety on the road, or fixing any particular issues that may have appeared.
Our team is here to ensure you get the most out of your ownership experience, and our team is uniquely equipped to assist you in that endeavor.
Moreover, we offer both Ford Owner Advantage Rewards and the Len Stoler Ford eVIP Program -- both of these offer competitive pricing with service shops locally, and offer an impressive amount of benefits for drivers all throughout Owings Mills.
Have Any Questions About Servicing Your Ford Vehicle?
If you have any further questions about our selection of vehicles, or if you are interested in seeing our selection of new and used Ford vehicles, we invite you to visit us at Len Stoler Ford in Owings Mills, MD. Our team would be happy to help you find the most complementary automotive option for your needs!