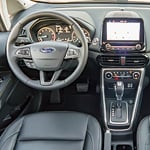 The Ford EcoSport is fun to drive and economical at the gas pump. For these reasons, the little crossover remains a popular option among many. However, few realize that despite being small, the EcoSport is quite capable.
For optimal fuel-efficiency, choose the SUV with a 1.0-liter three-cylinder engine that puts out up to 123 horsepower and a six-speed automatic transmission. The vehicles have a combined EPA rating of 28 mpg and capably pull up to 1,400 pounds.
When wanting power and performance, select a model having the 2.0-liter engine that delivers 166 horsepower. The larger powertrain has a combined EPA rating of 30 mpg. But the SUV capably tows up to 2,000 pounds. Equipped with intelligent 4WD, the vehicles are fully capable of traversing across more difficult types of terrain.
Explore all of the features that the Ford EcoSport has to offer. See the latest models at our Owings Mills, MD Len Stoler Ford location. Ask about taking one of the vehicles for a road test.