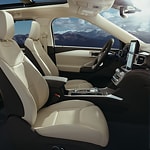 Performance of the 2020 Ford Explorer is something that you can cheer on. It seats up to seven people, has amazing safety features, and a lot of cargo space. All of these abilities make it a lot easier to enjoy your vehicle and make the trip from Point A to Point B that much easier for you and those that you carry around.
There are three engine options with the 2020 Ford Explorer which are all incredibly helpful to those who have a variety of preferences in terms of what their vehicle can do. They want something that gives them the flexibility to build it to what they want it to be based on personal taste and the budget of any individual.
Modern safety features bring about a greater peace of mind as well. You just don't get any better than the ability to know that the vehicle can take over in the event of an emergency. That is one of many incredible things that the 2020 Ford Explorer brings directly to you.