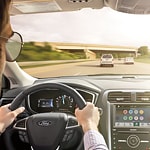 If you love to have the latest tech features in your vehicle, then you will want to consider the Ford Fusion. With the Fusion, you get some of the latest tech features available on any vehicle. Here is a look at some of the tech equipment you'll find on the current model Fusion.
The Ford Fusion allows all of your passengers to stay better-connected thanks to the available 4G wi-fi hotspot. This unique hotspot allows you to connect up to 10 devices with top download speeds. Now your passengers can watch videos or stream music with minimal interruption.
In addition to the top wi-fi hot spot, the Ford Fusion also offers the popular SiriusXM satellite radio service. This service gives you access to hundreds of music, news, sports, and entertainment channels. These channels give you clear and crisp satellite reception throughout the continental United States. This will come in handy during your next road trip.